How To Style Adidas Sportswear – Styling Tips For Summer Must Haves
We've designed a collection that's as versatile as your life: adidas Sportswear. Whether you're kicking back with friends, heading to a sports game, or exploring the city for the weekend, each piece fuses comfort with optimum style and fit, supporting any activity. adidas Sportswear offers specific sports fabrics and technologies through simple cutlines, colourways and stripped back design details, with comfort running through its very fiber. Each piece can be remixed to create your own fit, or to be worn as is for a statement look.
For Spring Summer 23, we're introducing a series of football-inspired fits and have enlisted the help of fashion stylist Roz Moxon to provide some tips and tricks on how you can style the collection, as well as sharing how Jenna Ortega, Trae Young and more, like to personalise and remix their own adidas Sportswear looks.
Tiro Suit Up Advanced + AVYRN
Defined as an everyday fit, the Tiro Suit Up Advanced serves functionality throughout, originally for football but revised for adidas Sportswear. It's a sporty uniform, for all that you do. With subtle differences across the men and women's offering, the women's Tiro Track Top adopts a batwing structure for a slightly oversized and slouchy look, whilst the men's version mimics a straighter and more tailored fit. Easy to accessorise, with a pro tip from Roz,
"Consider adding bold layers and pairing comfortable clothes with your favourite accessories to add your own personality to an otherwise classic look."
-Roz
For Jenna Ortega the Tiro Suit Up is a wardrobe staple, working as a blank canvas that sees her pair it with a shirt and tie for her on-set moments but then easily switched up with up with a gold sequinned crop for a day out with friends. Similar for Trae, the all-black ensemble acts as the base layer as he levels it up with contrasting green checked golf-inspired top for days on the green, but also strips it back with a gold chain layered over a basic white tee for a simple but striking fit.
The Tiro Suit is a timeless co-ord, which works perfectly with the AVYRN trainers. Made in part with recycled materials, the shoe fuses BOOST and BOUNCE technology in a new way to offer ultimate comfort both on the inside and out. In a muted two-tone black and grey colourway, the footwear is complete with minimal red detailing, origami inspired finishes and an exaggerated heel tab - working as the perfect finisher to your fit,
"It immediately elevates a sporty look and brings the whole outfit together"
-Roz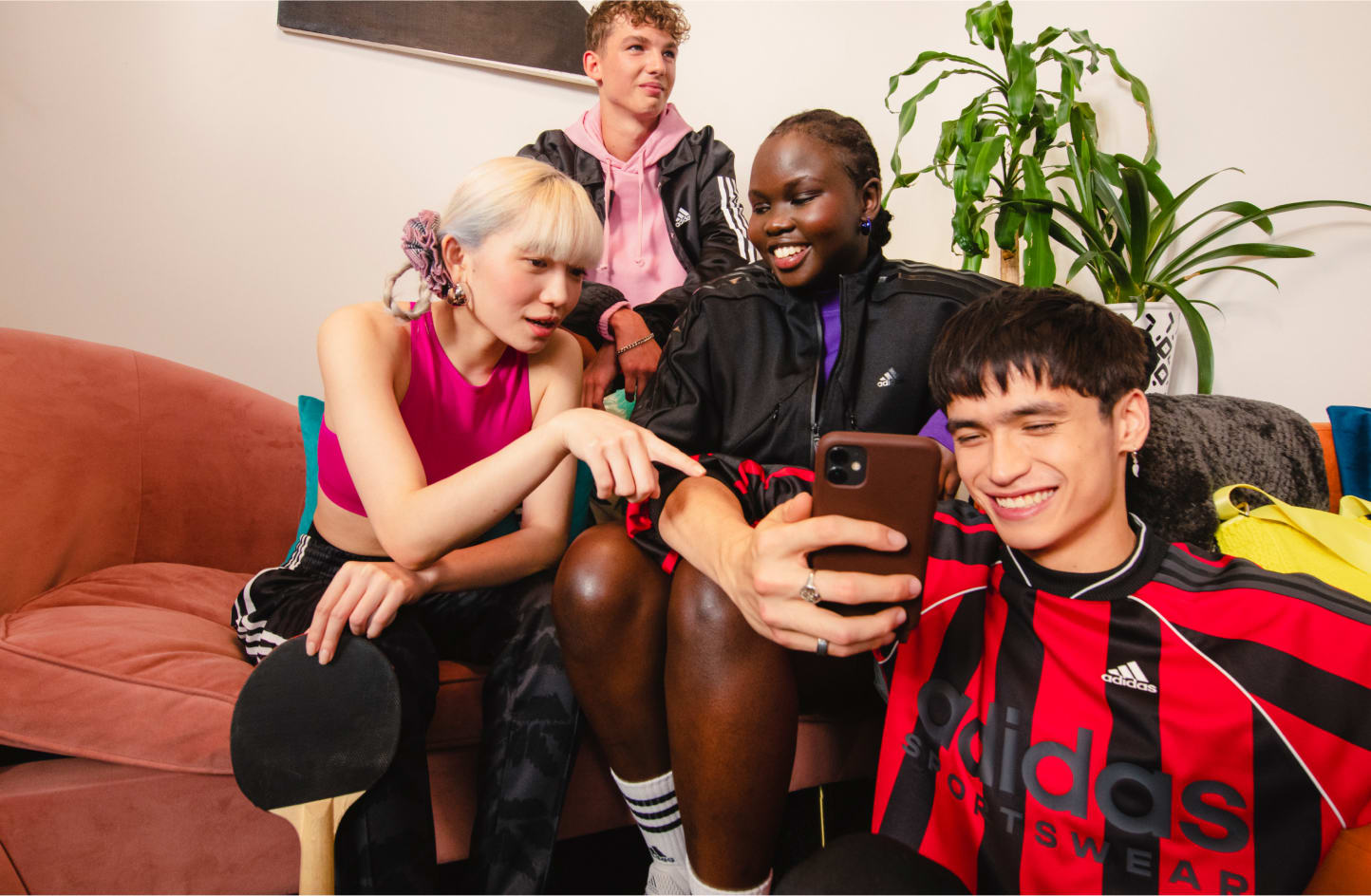 Express Dress
Made with a smooth and premium silk-like material, the Express Dress pushes the boundaries of adidas Sportswear. Defining "born from sport worn for style", the Express Dress takes all the design elements of a wrap silhouette, remixed with boasted collars and soft, comfortable ribbed cuffs.
Versatility is everything when it comes to the Express Dress. Don't believe us? Take it from Roz who says,
"One adidas Sportswear item can go a long way. Use simple mix and matching to get the most out of your clothes, so it can work whether you're exploring the city or relaxing with friends in the evening."
-Roz
Style with your comfiest sneakers and mid-rise sock for a sporty feel in the day, or change into a pair of heeled boots and a chic shoulder bag for a summer outfit that can be taken into the evening. Even though coined the Express Dress, we see the Flag Twins layering the piece on top of our Tiro Advance Suit Up Track Top as a lightweight jacket for all.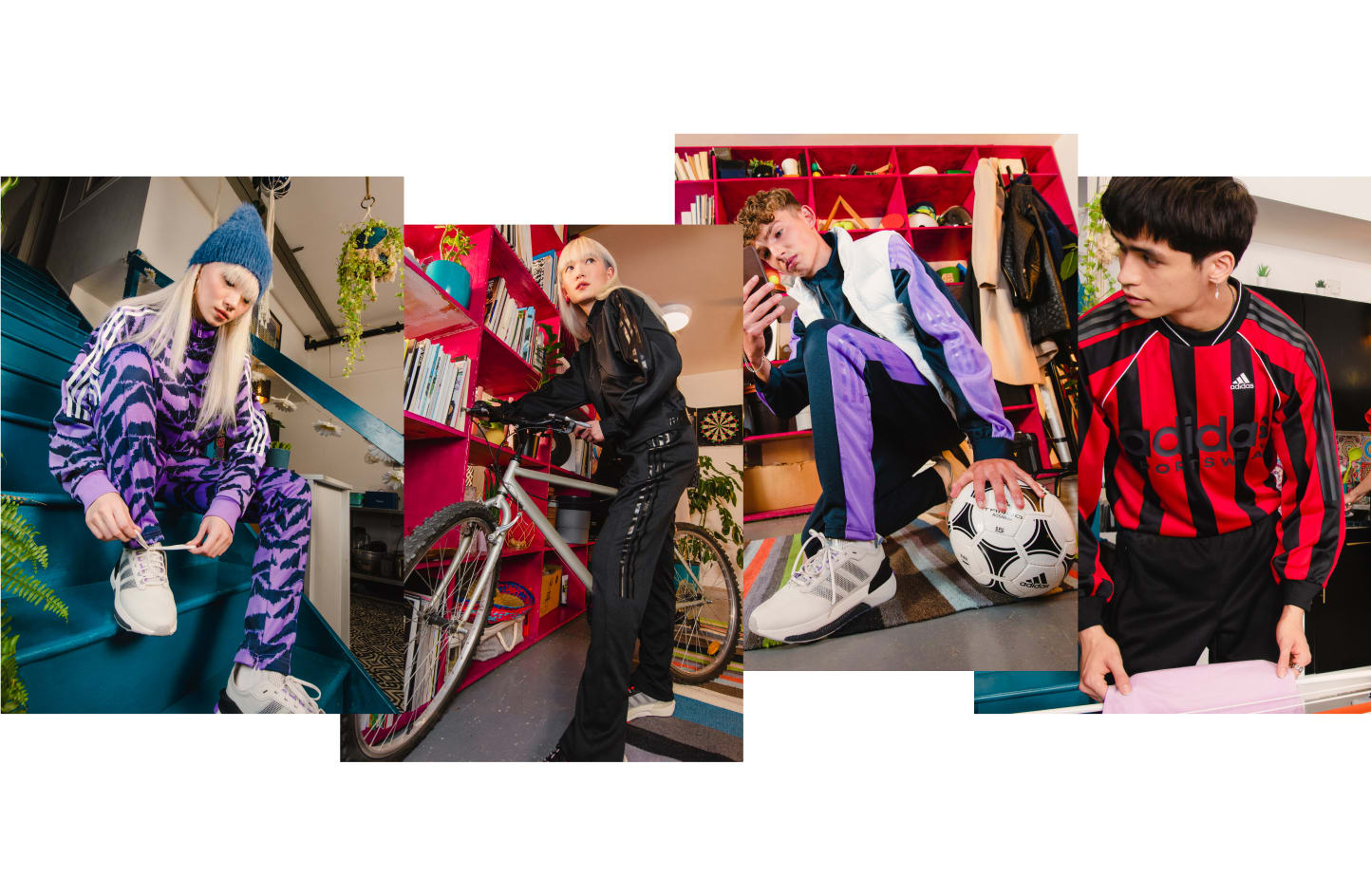 Express Jersey
A fit for every day, the Express Top takes inspiration from the football shirts of the 90's but transformed to suit your everyday. Taking classic football design cues for a sport aesthetic, a two-tone colourway is complete with an offset white piping and comfy, relaxed fit. The jersey can be enjoyed everyday and works to suit whatever life throws at you.
Style with your favourite straight leg joggers to keep the sporty essence alive or tuck into a pair of 90's mom jeans for a simple but stylish look. The piece can also be worn as a statement piece with cycling shorts for a casual summer outfit and used as a layer for winter. Jenna pairs with matching purple Tiro Suit Up Advanced Trousers for a co-ordinated and comfortable fit as she makes her way to set. Roz also tells us how we can style the Express Top in the Autumn season,
"dressing in adidas Sportswear is about feeling comfort in the clothes, as well as comfort in yourself. A gilet is the perfect item to add warmth and pockets whilst still showing your t-shirt or sweater underneath."
-Roz
Express Shorts
Bringing the any day and every day to shorts. A tailored fit for distinct adidas Sportswear style, the Express Shorts take on iconic colours and bold stripes in a premium silk-like material. With drawstring adjustability and a contrasting white adidas logo, these mid length shorts are a comfy, kicked back classic.
Taking you from spring to summer the Express Shorts are a timeless piece to keep in your collection, add a structured tee and bucket hat to complement these premium shorts for an easy summer outfit. Don't think the Express Shorts need to be stored away after August - they can easily be paired with tights and transitioned into spring and autumn.
"You can add an oversized hoodie or relaxed beanie for the ultimate lounging weekend look"
-Roz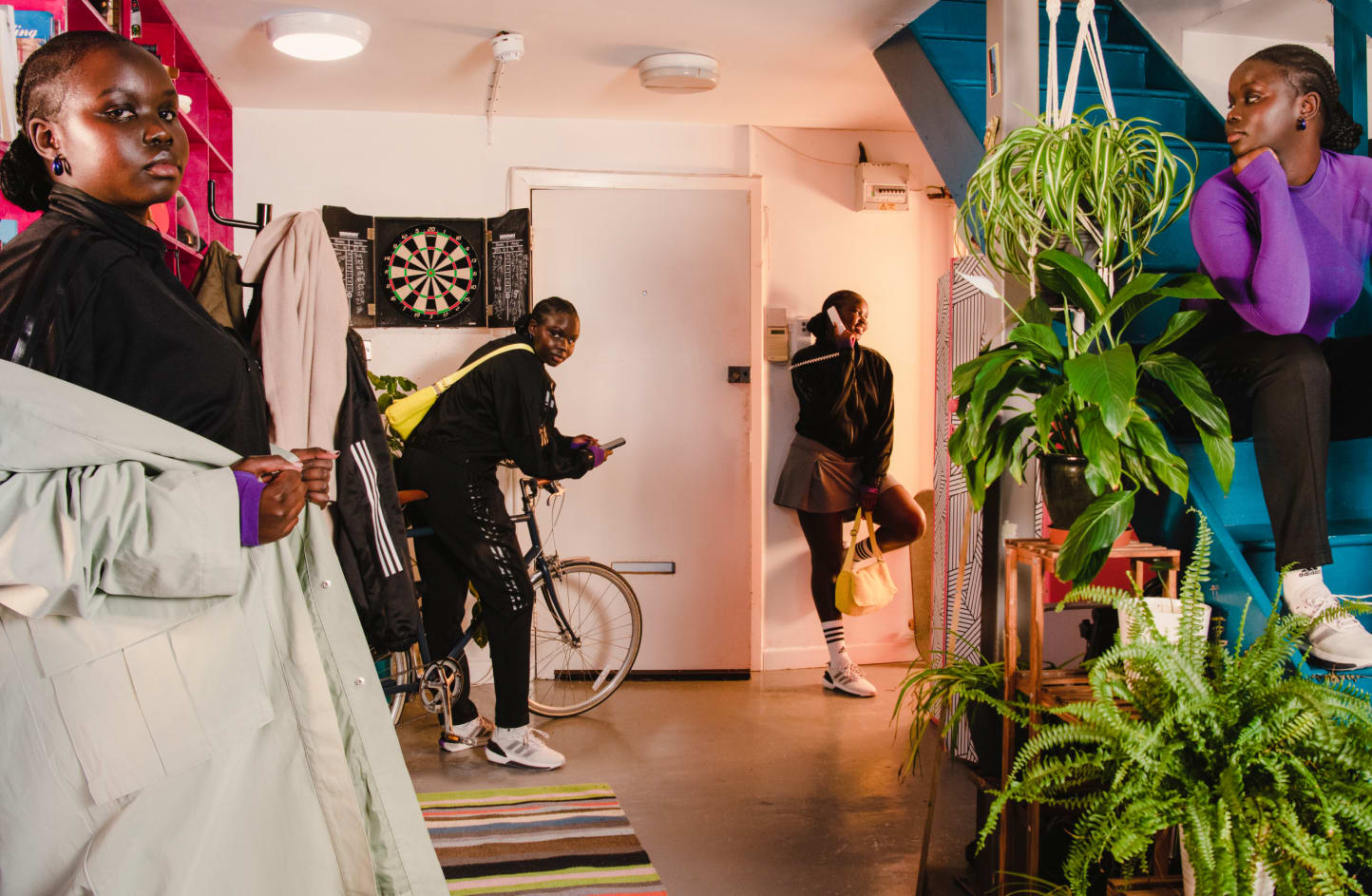 Express Coach Jacket
Serving manager material and touchline trend, it's the Express Coach Jacket you didn't know you needed. No need to overcomplicate it, a classic monochrome colour scheme but with an oversized fit and shine-finish fabric to give an added level of style and comfort. Cuffed sleeves with 3 stripe detailing and oversized collars add subtle modern touches to the piece. A favourite garment for Roz, she believes "it immediately elevates a sporty look and brings the whole outfit together." Take inspiration from the Flag Twins for a casual spring fit and layer on top of a white tee and offset with the statement Tiro Lifestyle Trousers, perfect for a day out with friends.
It'll be your go-to essential whatever the occasion and is the perfect silhouette to mix up, Roz says,
"I like to clash 'dressy' accessories with the more casual pieces to embrace this contrast and be ready to flex with where the day takes me."
-Roz
Stay Updated
Be the first to know all about stories, launches and events.