How to style white trainers: comfort and style
There is nothing quite like a pair of white trainers — they truly are versatile and can be worn with any outfit, whether you're in the mood to throw on a dress or are all about the classic T-shirt and jeans combination. You can wear white trainers fashionably every single day. It doesn't matter the season, the occasion or your outfit – white trainers are always a good idea. But what are the best ways to wear them? Let's get into it, with some advice from our VP of Apparel Design, Josefine Aberg.
How to style white trainers: comfort AND style
Looking good should also feel good. When you feel comfortable, you feel confident, and when you're feeling confident your style shines the brightest. And white trainers give you that feeling with any outfit because they're just so versatile.
A pair of white trainers are like a blank canvas to get your outfit started. It's a durable everyday shoe and styling tool for whatever occasion you're dressing for. No matter your personal preferences or preferred aesthetic, everyone should have a reliable pair of white trainers to go with any outfit.
"I'd say I've walked countless miles in white trainers while traveling, out in the city or even more dressed up." – Josefine Aberg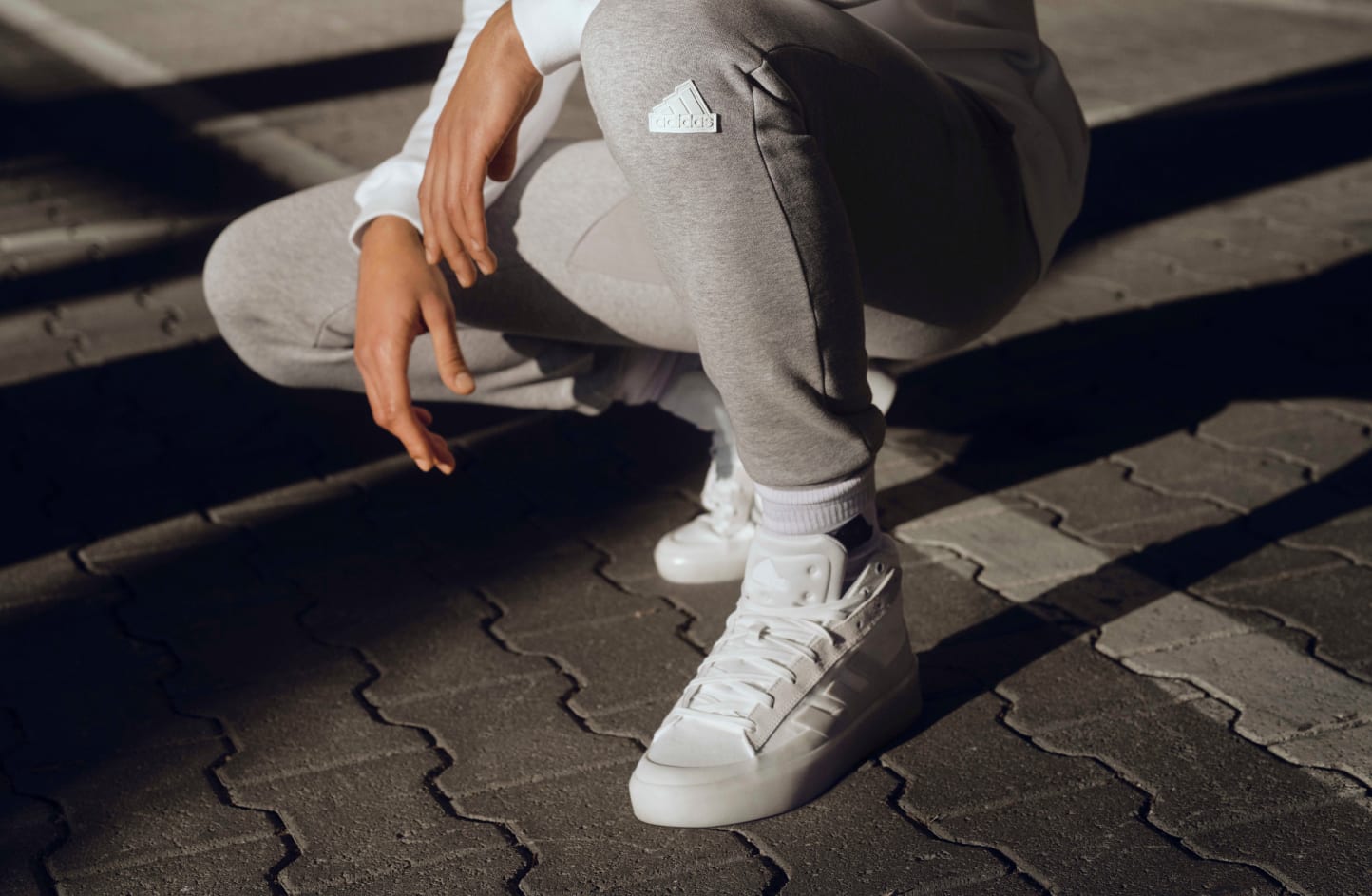 Make a colourful splash – or don't!
While comfort is definitely key in trainers, white trainers, specifically, offer the most diverse and adaptable styling options. It's easy to answer the question, "what colours go well with white trainers," because it's all of them.
If you like to wear a hint of contrast colours or prints to break up a singular colour palette, you pair it with white trainers and you are good to head out the door. If your outfit consists of a bold accessory or print that's meant to be the focal point, white trainers keep your overall outfit neutral and it will let the most colourful or loud print be the highlight of your look.
Dress up, or down
You may be wondering, "can you wear white trainers with a dress?" That's a definite yes. And once you try it, it'll be hard to return to high heels, or even gladiator sandals. White trainers easily pair with jeans or tailored pants and a blazer for a more professional look, while still working with sundresses and shorts for a lighter look.
"For me, the limit does not exist when it comes to the countless white sneaker outfits you can put together. With a quick skim of your wardrobe, you'll find there aren't very many items that won't work with them." - Josefine Aberg
Do you wear socks with white trainers?
Definitely. In fact, socks alone can be the accent piece that brings your whole look together. First of all, you need to know what occasion you're dressing for. This will change what colour socks you should wear, as well as what type of socks you should wear.
White socks are often the look for the gym when they're low, but can easily become the focal point of your outfit with height. Try white tube socks with dirty white trainers to add a vintage flair to your outfit.
With higher socks, you have more space to play. Try going more bold and attention-grabbing by wearing bright, colourful knee-high socks to draw attention to those comfy white trainers. This is an easy way to make an otherwise neutral-coloured outfit stand out.
How do you style jeans with white trainers?
While we often like to style our trainers with sportswear, what's more classic than the combination of a pair of blue jeans and a white tee? It's simple and lax, and it works with all proportions. Like skinny jeans and a tucked-in oversized T-shirt, or baggy jeans and a cropped fitting top, or a classic fit and tee – all can look very put together.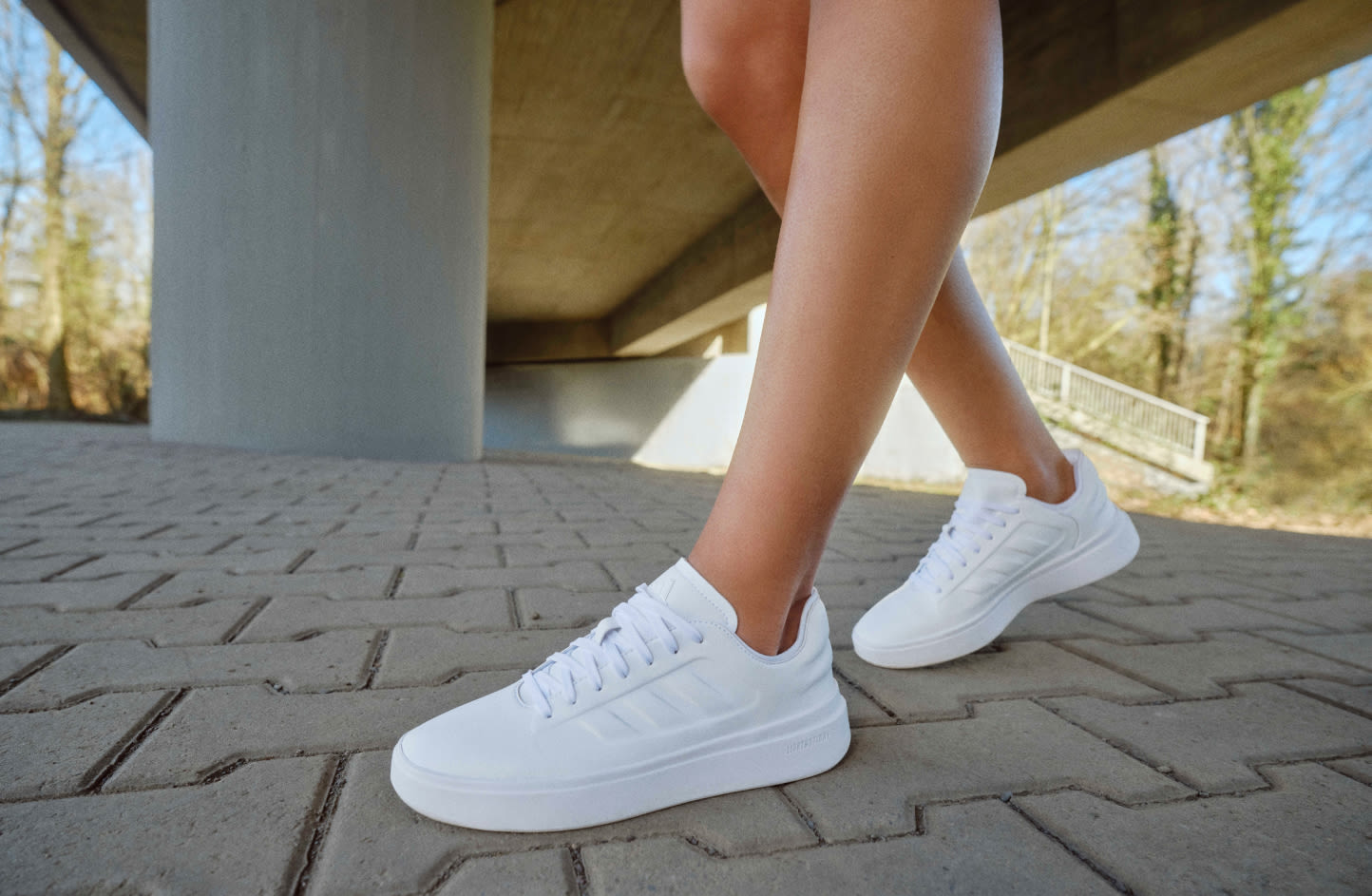 What is the best time of year to wear white trainers?
"To me, white trainers are to spring and summer what boots are to fall and winter: both are staples you can style with everything and anything, and fit within the overall aesthetic of these specific seasons." – Josefine Aberg
Your white trainers can take you from on-the-go in the sunny daytime to a night out on the town, and everywhere in between. No matter what your spring and summer plans are, your white trainers will take you there.
Your new go-to
No matter what your personal style is, a pair of white trainers should be classified as a wardrobe requirement. Whether you're going for a timeless sneaker style or a little more of a modern look, white trainers are the easiest way to elevate your athleisure look.
Be it a pair of jeans and graphic tee, matching sports bra and leggings set, shorts and sweats or a dress, there are so many ways to make white trainers look good while expressing your own personal style.
So now when someone asks, "how do I style my white trainers?" you can say, "however you feel."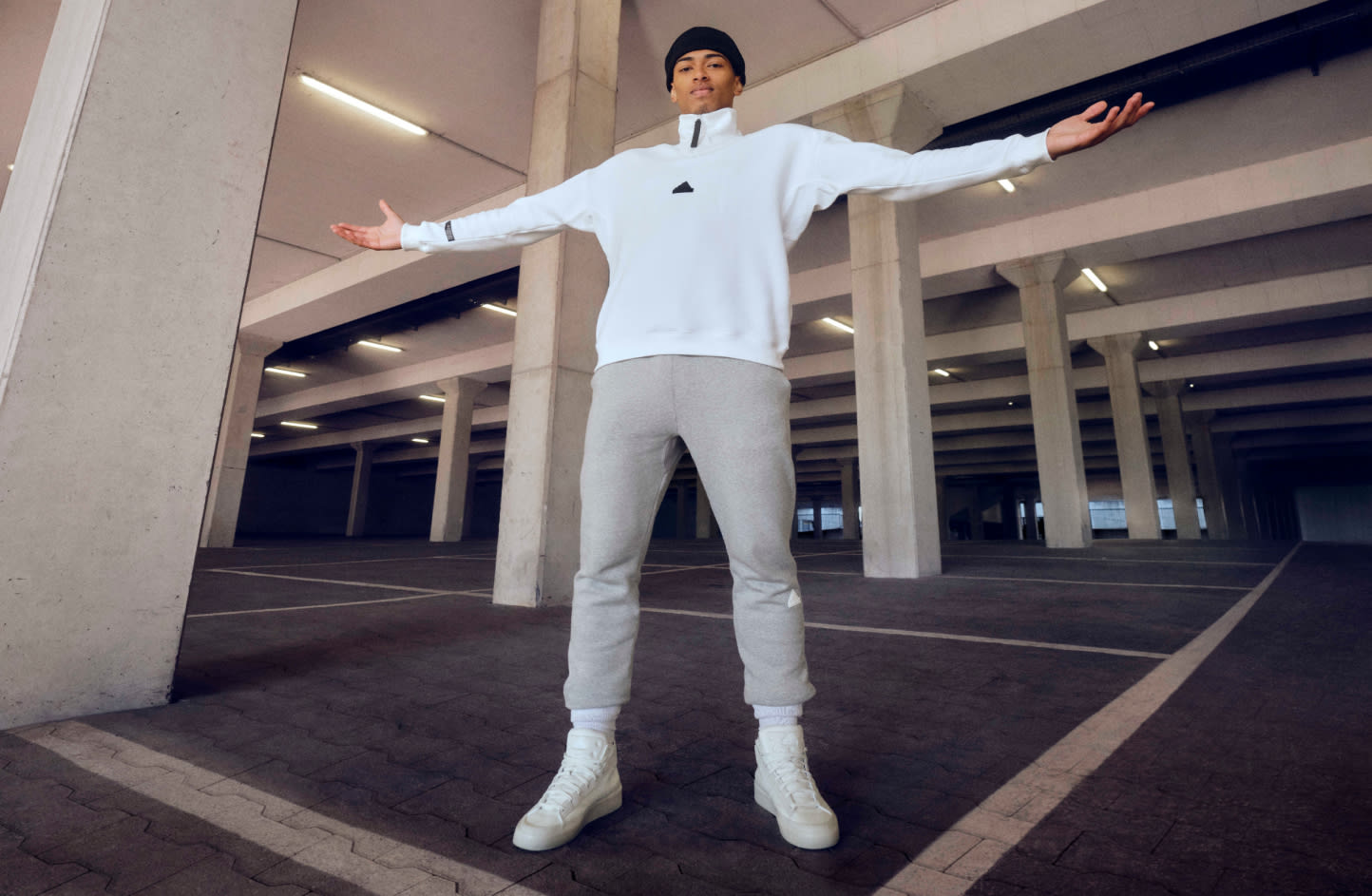 Stay Updated
Be the first to know all about stories, launches and events.