Back to School: Your Guide to Choose a School Backpack
When it comes to getting ready for the new school year, there are a lot of things to consider, including which school bag to buy. With so many different styles, sizes, and features available, it can be difficult to determine which backpack is the best fit for you or for kids. To help make the process easier, we've compiled a list of things to consider when choosing a school backpack.
The Importance of Comfort
Comfort is one of the most important factors to consider when choosing a school backpack. If the backpack is too heavy or the straps are too thin, it might cause discomfort, back pain, or even injury. To ensure comfort, choose a backpack with wide, padded straps and a padded back panel. Make sure the backpack is not too heavy when empty, as well as not too small, which can also cause discomfort.
How Long Should a School Backpack Last
A good school backpack should be able to withstand the demands of daily use. Look for backpacks made with high-quality materials, such as heavy-duty nylon or polyester, and double-stitching on high-stress areas.
Additionally, make sure to check for features such as reinforced corners, durable zippers, and a water-resistant coating to help protect the contents of the backpack.
Read our guide to take care of your adidas backpack.
Space for Books, Laptops, and Anything Else
The backpack should be able to hold all of your books, binders, and other items without being too bulky or too small. Look for a backpack with multiple compartments, including a main compartment, front pocket, and side pockets. This will help you stay organized and make it easier to find what you need quickly.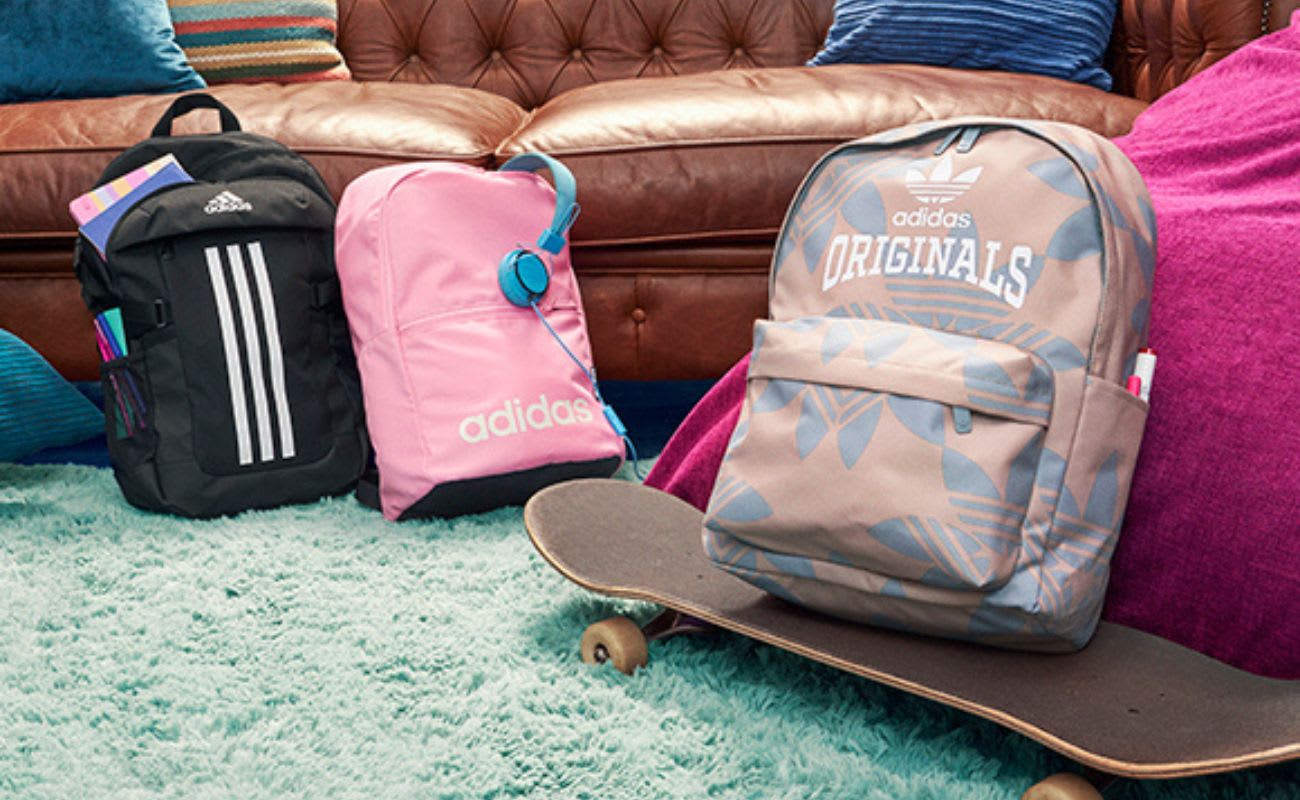 Make a Statement on the First Day of School
While functionality is the most important factor when buying a backpack, style and personal preferences are also important. Consider the colours, patterns, and overall design of the backpack, and choose one that reflects your personal style. Keep in mind that you'll be carrying the backpack every day, so it's essential to choose one that you like and that makes you feel confident and comfortable.
What to Look for When Buying a Backpack for Your Kids
Whether your child is starting kindergarten or going into high school, we will help you make an informed decision.
Consider Your Child's Age
The first thing you should consider when choosing a school backpack is your child's age. Different age groups have different needs, and it's important to take these into account when selecting a backpack.
For younger children, a backpack with wide, adjustable straps and a chest strap can help distribute the weight evenly and reduce the risk of injury. It's also important to look for a backpack with a padded back panel and a waist belt, as these features will provide extra support and comfort.
For older children and teenagers, a backpack with multiple compartments can be more beneficial. This allows for better organization and easier access to the items they need throughout the day. Additionally, a laptop compartment can be an important feature for high school students who use computers in class.
What Is the Best Size for a School Backpack?
Another important factor to consider when choosing a school backpack is size. The size of the backpack should be appropriate for your child's height and the amount of items they need to carry.
For younger children, a smaller backpack is usually sufficient. However, as they grow, they will need a larger backpack to accommodate their increasing number of school supplies.
When choosing a backpack, make sure to measure your child's torso length to determine the right size. This measurement can be taken by having your child stand with their back straight and measuring from the top of their hip bone to the top of their shoulder blade. This measurement will help you determine the right backpack size for your child.
Best Adidas Backpacks to Get Ready for School
Classic Backpack
A timeless classic available in black, blue, pink and khaki, this is a no-nonsense school backpack that's well suited to most kids. Featuring a smart, plain look with Trefoil logo, the Classic offers plenty of space for schoolbooks, as well as face masks and other essentials. Padded straps help to keep the load comfortable, while an easily accessible zip-up front pocket is perfect for keeping hand sanitiser and other frequently needed items in. Side pockets for water bottles means that hydration is always close to hand. As an added bonus , this school backpack is made from recycled materials, so they can do their bit for the planet simply by going to school.
Essentials Backpack
adidas Essentials bags have extra space, so it's perfect for kids that have that little bit extra to carry. Featuring a stripped-down classic look in cool black and made from durable recycled polyester, this school backpack has additional side pockets as well as a convenient front zip pocket. It also has a laptop compartment built in, helping to make sure that their much-needed technology stays away from things like yoghurts or drinks.
Stay Updated
Be the first to know all about stories, launches and events.