Womens Yoga Clothing & Bags
[1]
ESSENTIALS TO START YOGA
So, you're thinking of starting yoga? You're in the right place. All you need is you and a mat, plus fitted tops and bottoms to give you support, comfort and freedom to move. Not so loose they get in your way, not so tight they restrict your movement.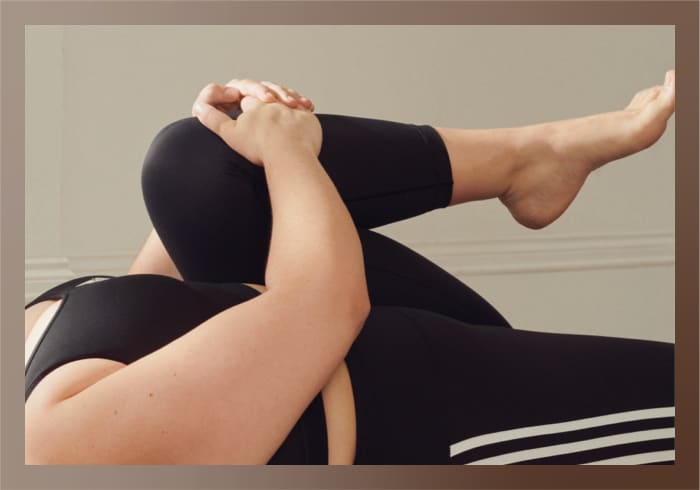 A CLOSE FIT FOR A FEEL-GOOD FLOW
As a beginner, Katerina finds having someone to follow in online yoga classes keeps her focused. Wearing a clothing set helps her feel good and ready to start. She prefers fitted clothing because it's easier to move between poses in. Add a water bottle, her mat and that's all she needs.
"Work out clothing can help you feel good in yourself and ready to start. I prefer fitted clothing for yoga, it's easier to move in and doesn't get in the way. Then I have a yoga mat and that's about it."
KATERINA OLWEN – NEW TO YOGA
YOGA EQUIPMENT FOR WOMEN
Find your next yoga outfit from our stunning selection of leggings, tops, bras and accessories for yoga women. Undeniable quality and out and out style come together in our range of high-performance yogawear.
A supportive compression sports bra is a key piece of your yoga wardrobe for self-assurance and security during dynamic movements. Our snug-fitting, non-restrictive bras come with inbuilt Climacool technology to wick moisture away from your body, and mesh panels incorporated into designs so you stay cool and dry for maximum focus. Available in black, white and bright colours, they look great styled under our vests and tank tops. We also offer post-mastectomy bras for yoga women who have braved cancer.
Bend and stretch
Our leggings and tights for yoga women come in classic colours and beautiful bold patterns. Flattering, high-waisted styles in stretchy elastane have comfy, wide waistbands for an optimal fit that stays in place while you flex and move. Choose a seamless style for maximal comfort, or designs with pockets to keep you free from distraction as small essentials are tucked safely away. Full, 7/8 and three-quarter lengths are available so you're as comfortable as possible when you conquer that next move ,or just switch it up with our adjustable length leggings.
Design that starts with you
Our long-standing collaboration with designer Stella McCartney continues with stand-out yogawear and yoga accessories that celebrate adidas style and the female shape with chic detailing, seamless design and mesh ventilating features. Or get the Wanderlust vibe with leggings and tops that brim with positive energy in yoga wear created from recycled polyester and characterised by optimistic colour and pattern with an easy-going vibe attitude.
Yoga tops are sleeveless and designed for free, overhead movements in bodywrapping and regular styles and stunning racerback designs. Made from hard-working fabrics to keep you cool and dry.
Maybe you will also like: Yoga• Yoga Pants• Yoga Leggings• Yoga For Kids• Yoga Tops• Yoga Trousers• Yoga Shorts• Yoga Bag• Yoga Girls• Yoga Clothes For Women• Yoga Boys