3 Stripes, 1 Planet: How adidas Golf is leading the fight to end plastic waste
Golf courses are a haven for greenery, fresh air and wildlife. adidas Golf are joining the mission to save one of the planets favourite sporting canvasses.
Every day, approximately eight million pieces of plastic pollution find their way into our oceans, with as many as 5.25 TRILLION macro and microplastic pieces floating in the open sea.
To put it another way, that's the equivalent of every single human on Earth throwing 700 pieces of plastic into the water.
As you might expect, all this has taken a significant toll on marine wildlife. More than 100,000 mammals and turtles, and over one million sea birds, are killed by plastic pollution every single year.
Without immediate action, the problem could get a whole lot worse, with some experts predicting than our seas will be filled with 640 million tons of plastic by 2034 – just 7 Ryder Cup matches from now. That's up from 1.5 million tons in 1950.
By 2050, it is reckoned that the planet's oceans may be filled with more plastic than fish.
Helping to right this wrong has become a key objective for some of the world's biggest and most environmentally-conscious companies. That includes adidas.
Since 2012, the company has been researching innovative ways to tackle the problem of plastic waste, particularly in regard to how it makes products. At the London Olympics that year, for example, the brand kitted out volunteers with uniforms made from recycled polyester and by 2024 it expects to have completely removed virgin polyester from its manufacturing processes. As James Carnes, the VP of Brand Strategy, explained: "We're not just focused on changing how we do business; we're dedicated to changing how our industry does business."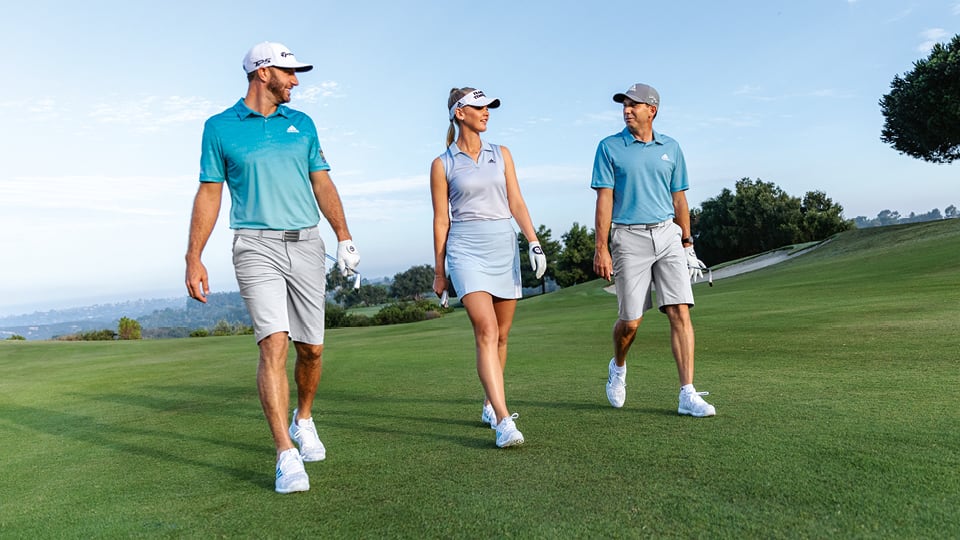 adidas Golf, for instance, has made some particularly impressing strides in eliminating plastic waste. In the spring/summer 2020 golf collection alone, 71% of the apparel and 75% of the footwear uses material made from recycled polyester.
The 2020 season also saw a notable first for the sport, where adidas brand ambassadors were equipped with select apparel and footwear made from upcycled plastic waste.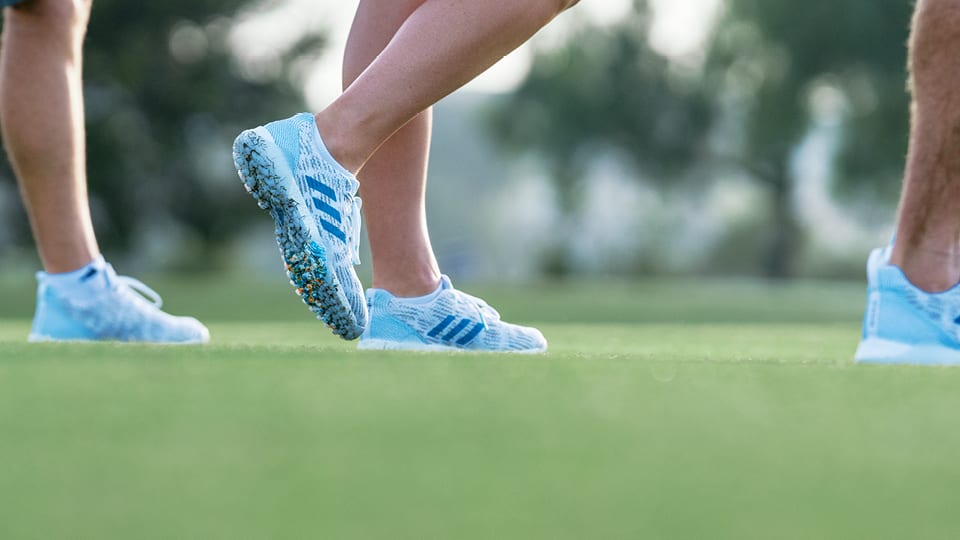 The more sustainable collection is made from adidas' new PRIMEBLUE material, made in part with Parley Ocean Plastic. Upcycled plastic waste is intercepted on remote islands, beaches, coastal communities and shorelines, preventing them from further polluting the world's oceans, before being turned into high-performance polyester yarn that can be used in apparel and footwear. Introducing this collection in March was a significant statement on sustainability by adidas Golf. Launching on both the PGA and European Tours ensured this message reached golfers worldwide.
In the spring/summer 2020 golf collection alone, 71% of the apparel and 75% of the footwear uses material made from recycled polyester.
The special PRIMEBLUE collection features two polos and shorts for men, as well as two sleeveless polos and skorts for women. It also includes limited edition footwear for both men and women made from upcycled plastic waste.
The unique footwear is designed from adidas' new CODECHAOS silhouette, the latest footwear from that brand that pushes the boundaries of what a golf shoe can be.
Stay Updated
Be the first to know all about stories, launches and events.